We have a PTA but are not yet a member
Nice start! Can we help?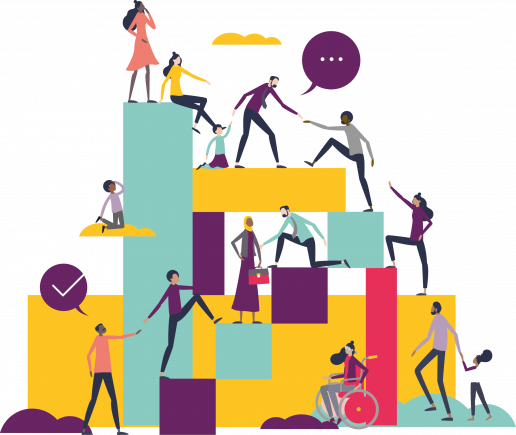 It's always a pleasure to meet new PTAs!
If you love the potential of PTAs, and want to manage your PTA efficiently, you're not alone. Our 12,500 PTA members all took the fast track to PTA success and joined our network to use our advice, resources, and exclusive benefits, saving them time and stress, and helping to raise millions of pounds each year.

Feedback shows that our PTAs are over the moon with their PTA membership and what it helps them achieve:

88%

rated our PTA membership as good or excellent in 2021

100%

would recommend our PTA membership to other PTAs.
PTA Membership by Parentkind
| | | |
| --- | --- | --- |
| Number of pupils on school roll | Direct Debit | Credit / Debit Card |
| Up to 100 pupils | £109 | £119 |
| 101 pupils or more | £153 | £163 |
| Overseas membership* | N/A | £66 |
The ​'BIGs' are our big fundraisers – a suite of ready-made, exciting events, including a quiz and raffle, to help all of our PTA Members raise funds together, easily and effectively, with minimal effort and admin required. They are held at specific times of the year, so you can add them to your fundraising planner and simply use our resources to make them a big success.

"When the Big PTA Quiz 2020 came along, we thought we'd have a go! This felt like a really manageable activity, and we were pleased to have the ready-made resources from Parentkind to give us a helping hand. On the night, we had 16 teams take part, and raised £130!"

- Clare Turner, Chair of the Friends of Blockley School, Gloucestershire
Want an insurance policy tailor made for PTAs?
Think a PTA is insured by the school or local authority? Think again; as separate entities to the school, PTAs aren't covered by the vast majority of school policies, and the few policies which do extend to PTAs only provide very limited cover.
With a PTA Membership by Parentkind, you'll be provided with a bespoke insurance policy from Zurich Insurance Company Ltd. With this tailored policy, you'll be covered for events, trustee indemnity, theft, as well as up to £10 million public liability, and more. For more details, read the full benefits of our policy here.
This policy from Zurich Insurance Company Ltd. is tailored to the needs of modern PTAs, and will ensure you peace of mind. 22% of PTA members voted this insurance package their favourite benefit in 2021.
PTA membership starts from just £109 a year – it really is a no-brainer. Click here to sign up, or call our PTA Community Advisers on 0300 123 5460.
| Insurance Jargon | Plain English | Parentkind benefit? |
| --- | --- | --- |
| Material damage – all risks | Covers the PTA's property or property which the PTA is responsible for, from damage caused by insured events such as fire, theft, accidental damage, storm or flood. | |
| Business Interruption | Cover provides financial compensation for additional expenditure following a claim under the Material Damage section, such as having to hire additional equipment which had been stolen for a planned event. | |
| Money | Covers the theft or damage of the PTA's money, such as from safes or whilst in transit. | |
| Public liability | Covers you and your volunteers helping you in respect of your legal liability for costs and expenses arising from injury to a third party or damaging their property, i.e. a member of the public. | |
| Employers liability | Covers you in respect of your legal liability for costs and expenses arising from injury to your employees, members or volunteers. | |
| Personal accident cover | Provides an agreed financial benefit in respect of PTA an Employees, member or volunteer following death or disablement arising from an accident and/​or an assault at a PTA event. | |
| Deterioration of Stock | Covers stock which has become unusable following the breakdown of fridges or freezers. | |
| Financial and Administrative Liability | Cover provides: — Protection to your PTA if your activities cause a financial loss to a third party — Crime covers financial losses resulting from direct losing of money or property, computer fraud including hoax emails, theft of funds by fraudulent transfer and forgery. — Protection to directors and trustees of the PTA from financial loss claims made against them personally as a result of the members decision. | |
| Trustee Indemnity | Trustee indemnity insurance protects charity trustees (committee members) personally from any claims made against them arising from their failure to act in a proper manner in their role as a trustee or committee member. This would cover damages and legal costs, but any illegal act or deliberate negligence cannot be insured against. | |
Exclusive offers and discounts
We handpick approved suppliers, who are recommended by our PTA members and then verified by us. In our Suppliers Directory, you will be able to find a great range of suppliers and discounts that aren't available anywhere else, to support your PTA's events, merchandising, fundraising, accounting, and more!


Everyone involved in your PTA committee has full access to the PTA Expert Hub and our Community Advisers.

Collectively, our friendly Community Advisers have 46 years of experience at their fingertips to help you with everything you need to be an effective PTA, and raise school-changing amounts of money.

Let us help! Contact our Community Advisers for one-to-one support on 0300 123 5460 or by emailing [email protected]. Open Monday to Friday, 9am to 5pm.
It's likely our Community Advisers have heard your question before, but if not, they are happy to go to greater lengths to provide the answers you need.
Our PTA Members also benefit from a supportive network of like-minded PTAs in England, Wales and Northern Ireland. We unite our PTA Members, and share and celebrate their fundraising and other successes in our fortnightly e‑newsletters, online, and via social media. Your PTA can learn from and inspire other PTAs, and join them in networking, training, as well as enjoying our BIG fundraising events.
Our members also have access to the stories of other awesome PTA members, who are using their membership benefits to live the PTA dream!
PTA members can access our online community of more than 12,500 PTAs around the UK via Facebook and Twitter.

Join PTA Membership by Parentkind
Ready to take your PTA to the next level? Get in touch with our Community Advisers on 0300 123 5460 or email to see how we can support your PTA. PTA membership costs as little as £109 per year.
Sign up today